Training For Busy Cyclists
How to become a stronger, faster cyclists with 3-5 Hours of Training Per Week!
eBook written by Coach Ertl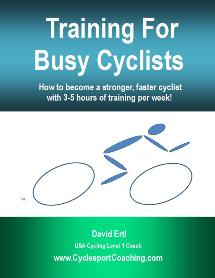 Do you wish you could get in better shape but don't think you have enough time to ride and train?
Would you like to have more time to ride?  Do you want to find ways to gain a few more
hours per week to ride?

Would you like to race but don't think you have enough time to get in shape to be
competitive?
Are you making the most of every ride you do?   Does every ride you do have a purpose?
Would you like to find out how to improve even if you only have three hours per week to
devote to your cycling?
Applicable to the novice, recreational and competitive cyclist.  

No matter how little or how much time you have you can always make better use of your
training time, and this ebook will show you how..

Many short, effective workouts are listed to help you get the most of your limited time, beginning with workouts as short as 30 minutes.

Teaches you how to train efficiently and effectively in the time you have available.

54 weekly training plan templates are included, ranging from 2 days and 2 hours per week, up to 5 days and 6 hours per week.

A full chapter devoted to ways to help create more time to ride than you thought you ever had.

Tips included for helping you create more time in your schedule to ride, and to increase the chances that you will get out and ride.

This book is a great companion to the pre-built Training Plans and with my customized coaching training plans available at  www.CyclesportCoaching.com  and with my other eBook, 101 Cycling Workouts.

Contains 40 pages

Contains 54 examples of training week plans for schedules ranging from 2 to 6 hours per week.

Table of Contents

Click here to view some sample pages

This eBook comes as a .pdf file.  You can download and save it electronically, and print it off if you want a paper copy. 
Just $15.00 !
Once you make your online purchase through Clickbank, you will be directed to a web page where you will be able to download this ebook immediately. Note that your credit card statement will say CLICKBANK or CLKBANK.COM.

---
This documents is in .pdf format. You will need adobe reader on your computer to open this file. If you don't have Adobe Reader on your computer, you can download it for free from www.Adobe.com



---
 If you have any questions, please email me at: