New eArticle !

Lose Those Last 10 Pounds

6 Healthy Eating Guidelines and 12 Weight
Loss Strategies for losing those last few pounds of body fat
You spend hundreds, perhaps thousands, of dollars
making your bike as light as possible

Are you as light as possible?
This eArticle can show you how.

written by Coach David Ertl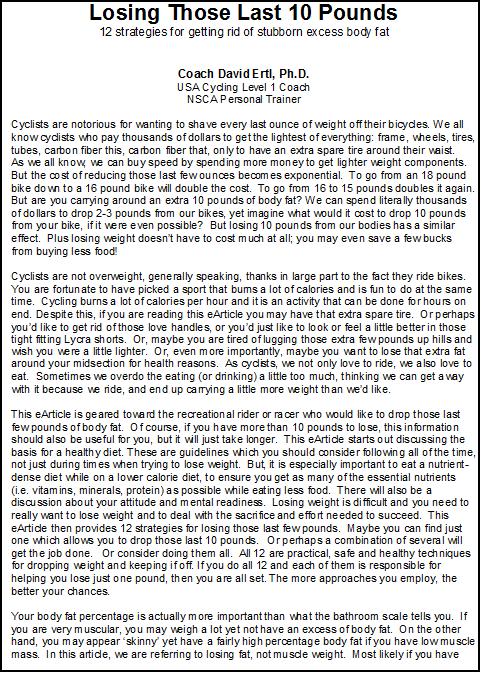 Cyclists are very weight conscious, both about their bikes and their bodies. To be as fast as possible, you don't want to be riding a heavy bike but you also don't want to lug around a lot of extra unnecessary body fat. While most cyclists are not overweight, many could benefit by dropping a few more pounds of unwanted body fat.
But cyclists also have an additional challenge when losing weight. We burn a lot of calories cycling, but to have the energy to continue riding, we also need to fuel our bodies. If you are training for an event, or just wanting enough calories to get through your next workout or long ride, you are going to have to eat a lot, which can make it difficult to lose weight and still have the energy to ride. This eArticle address those needs.
This eArticle lays out six healthy eating that you should consider following to give yourself the best diet possible. As a cyclist, you put your body through a lot of stress. You need to feed your body better than the average person does. When trying to lose some body fat, it is even more important to eat as healthfully as possible to ensure you are getting the required nutrients without eating as much food.
This eArticle then goes on to describe 12 fat loss strategies you can use to finally get rid of those last few pounds of fat. These are safe approaches to gradually trimming and burning a few extra calories per day so allow you to lose some fat without burning off desirable muscle tissue or depleting your energy. Just pick one or try all 12. If any one of these can help you lose one pound per week, in a few short weeks you will be a lean riding machine!

If you have more than 10 pounds, these weight loss strategies will certainly work for you too, although it will take longer to get to your goal weight.

Not only is losing body fat advantageous for your cycling performance, but even more importantly, it can help you to be healthier.
Contains 14 pages.

This eArticle comes as a .pdf file.  You can download and save it electronically, and print it off if you want a paper copy. 
Only $4.99 !

Once you make your online purchase through Clickbank, you will be directed to a web page where you will be able to download this ebook immediately. Note that your credit card statement will say CLICKBANK or CLKBANK.COM.



---
This documents is in .pdf format. You will need adobe reader on your computer to open this file. If you don't have Adobe Reader on your computer, you can download it for free from www.Adobe.com



---
 If you have any questions, please email me at: