Pedal Off The Pounds eBook

A practical approach for weight management through bicycling and good nutrition
written by Coach David Ertl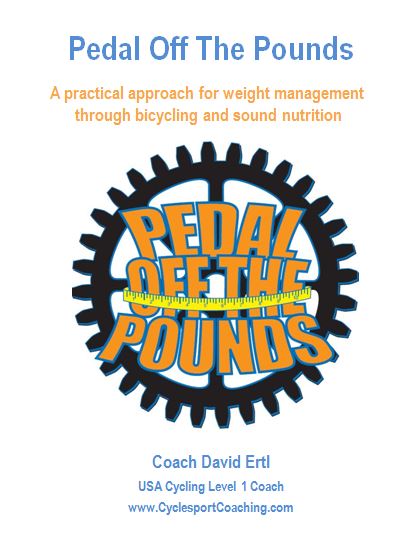 This eBook gives a common sense approach to weight loss and maintenance through a good nutritional practices and using cycling to burn through calories.
Chapter 1 discusses some basic nutritional principles to help you consume a nutritionally rich but not calorie-dense diet to help you be a healthy and lean cyclist.
Chapter 2 discusses how much to eat and when to eat, to maximize weight loss and to allow you to have enough energy to keep riding at the sametime. This will discuss how to use your hunger to your advantage as you drop pounds.
Chapter 3 covers approaches to balance the need for energy for cycling with the need to restrict calories for weight loss. Two scenarios are covered, one where weight loss is the sole purpose for cycling and the other where you may want to lose weight but train for increased cycling performance at the same time.
Chapter 4 goes through some example training and eating patterns to help you understand what, how and when to eat as you are cycling and to allow you to build your own program.
The eBook concludes with useful tips for weight loss.
Click here to view some sample pages
Contains 28 pages



What is an eBook?
An eBook is an electronic book. This eBook comes as a .pdf file.  You can download and save it electronically immediately following your online purchase. You save it as an electronic book or print it off if you want a paper copy. 
Just $12.95 !

Once you make your online purchase through Clickbank, you will be directed to a web page where you will be able to download this ebook immediately. Note that your credit card statement will say CLICKBANK or CLKBANK.COM.



---
This documents is in .pdf format. You will need adobe reader on your computer to open this file. If you don't have Adobe Reader on your computer, you can download it for free from www.Adobe.com



---
 If you have any questions, please email me at: