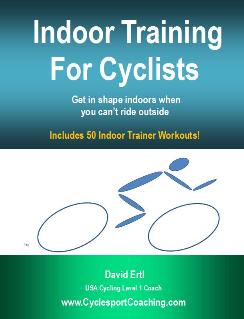 New eBook !



Indoor Training For Cyclists

Get in Shape Indoors When You Can't Ride Outdoors !

The How's and Why's of Indoor Training
Includes 50 Indoor Training Workouts

eBook written by Coach David Ertl


Do you dread climbing on your indoor trainer?

Are there many days where you can't get out to ride, due to lack of daylight,
bad weather, or other obligations?
Would you like to improve your fitness over the winter and come back stronger than ever next spring?

Do you wish your indoor training could be more like riding outdoors?
Indoor Training For Cyclists is an eBook which tells you the How's and Why's of indoor training, and makes indoor training as enjoyable and beneficial as possible!.
It discusses the reasons for indoor training, including times when the weather is good ! Believe it or not, there are times when training indoors is more effective than training outdoors.
It reviews the various types of indoor training sessions and covers the types of indoor trainers.  

Most importantly, this eBook shows you how to design an indoor training workout to get the most out for your time spent. Most of the workouts are one hour or less yet provide you with a workout better than many outdoors rides you probably do.

Indoor training is a must if you want to become a stronger, more fit or more competitive cyclist. There are many reasons keeping you from training outdoors all the time, so get this eBook and learn how to make your indoor training time pay off.

It's possible to gain fitness training indoors and many cyclists rely on it to maintain and improve this cycling ability due to
time constraints and weather. This eBook shows you how to set up your indoor cycling area with all the necessary accessories
to allow you the best training experience possible, and it provides a wide variety of 50 different workouts to help keep your indoor
training interesting and to challenge you to become a better cyclist.

This book is a great companion to the pre-built Training Plans and with my customized coaching training plans available at  www.CyclesportCoaching.com.

"Excellent training for a triathlon competition"
Contains 84 pages

Contains 50 indoor training workouts for leg speed, endurance, time trialing, anaerobic fitness, strength and power, and recovery.

Table of Contents

Click here to view some sample pages

This eBook comes as a .pdf file.  You can download and save it electronically, and print it off if you want a paper copy. 
Just $15.00 !

Once you make your online purchase through Clickbank, you will be directed to a web page where you will be able to download this ebook immediately. Note that your credit card statement will say CLICKBANK or CLKBANK.COM.



---
This documents is in .pdf format. You will need adobe reader on your computer to open this file. If you don't have Adobe Reader on your computer, you can download it for free from www.Adobe.com



---
 If you have any questions, please email me at: