Low-Tech Training For Cyclists
eArticle written by Coach Ertl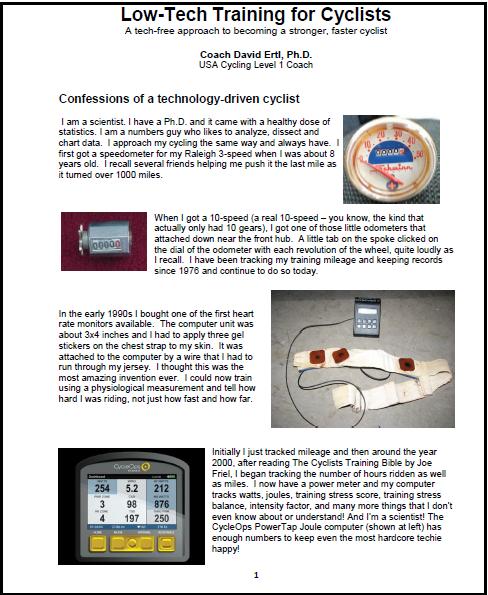 Do you dislike all the high tech training tools such as heart rate monitors, power meters, cadence meters and perhaps even bike computers?

Perhaps you just like to ride 'unplugged' once in a while to enjoy the joy and simplicity of cycling by 'feel'.
 This article contains some background on training tools and then describes how to determine your effort level without any of these tools but rather through your intuitive perceptions of your own effort. Using this method will put you in touch with your body's effort as you train, which is an important skill to have even if you like to use high tech tools.
I provide a system more simple than the popular 'RPE' scale for perceived exertion.
This article describes how to do endurance, aerobic threshold, anaerobic workouts, strength training and recovery workouts without the use of anything including a bike computer.
Even if you like to use all the latest tools and technologies on your bike, it still is useful to understand how to train with just your own senses.

Contains 10 pages

What is an eArticle?
An eArticle is an electronic article. This eArticle comes as a .pdf file.  You can download and save it electronically immediately following your online purchase. You save it as an electronic book for your e-reader or print it off if you want a paper copy.  
Just $4.99 !

Once you make your online purchase through Clickbank, you will be directed to a web page where you will be able to download the training plan and user's manual immediately. Note that your credit card statement will say CLICKBANK or CLKBANK.COM..

This documents is in .pdf format. You will need adobe reader on your computer to open this file. If you don't have Adobe Reader on your computer, you can download it for free from www.Adobe.com



 If you have any questions, please email me at: