New eArticle !

Swift Cycling

A 12 week program for increasing your cruising speed
Do you want to be a faster cyclist?

Do you ride time trials and want to get faster?
This eArticle can show you how.

written by Coach David Ertl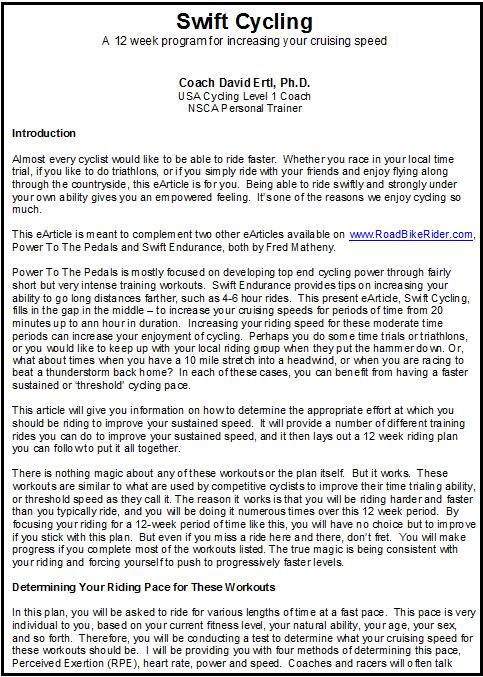 Learn how to find your ideal sustainable pace and then train there.
Explains several workouts to increase your cruising speed.
Describes a 12 week training plan with specified workouts within each week, and tests to determine how much faster you are getting.
Contains 8 pages.

This eArticle comes as a .pdf file.  You can download and save it electronically, and print it off if you want a paper copy. 
Only $4.99 !

Once you make your online purchase through Clickbank, you will be directed to a web page where you will be able to download this ebook immediately. Note that your credit card statement will say CLICKBANK or CLKBANK.COM.



---
This documents is in .pdf format. You will need adobe reader on your computer to open this file. If you don't have Adobe Reader on your computer, you can download it for free from www.Adobe.com



---
 If you have any questions, please email me at: