eArticles
eArticles are articles which are electronically delivered as PDF files. These can be purchased here and are delivered immediately upon payment via a download. You may keep these as an electronic article on your computer or e-reader, or you may choose to print these off if you wish to have a paper copy.


---
Losing Those Last 10 Pounds
by Coach David Ertl


This eArticle then goes on to describe 12 fat loss strategies you can
use to finally get rid of those last few pounds of fat. These are safe
approaches to gradually trimming and burning a few extra calories
per day so allow you to lose some fat without burning off desirable
muscle tissue or depleting your energy. Just pick one or try all 12.
If any one of these can help you lose one pound per week, in a few
short weeks you will be a lean riding machine!

READ MORE & TO ORDER
---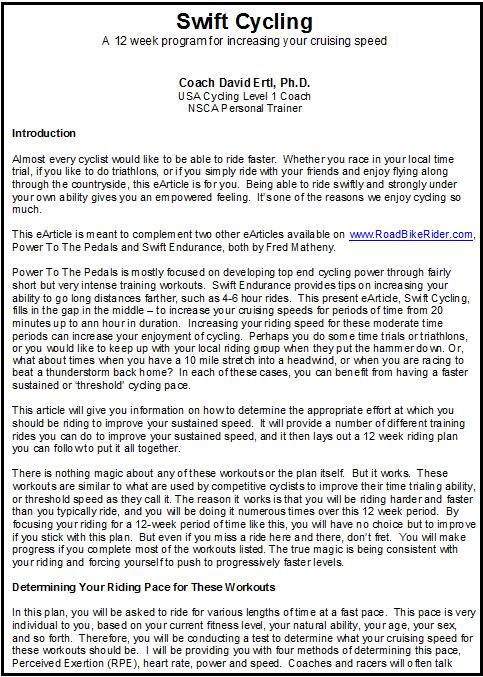 Swift Cycling: A 12 Week Program For Increasing Your Cruising Speed
by Coach David Ertl


Learn how to find your ideal sustainable pace and then train there.

Explains several workouts to increase your cruising speed.

Describes a 12 week training plan with specified workouts within each week, and tests to determine how much faster you are getting.

Contains 8 pages.




---

Low-Tech Training For Cyclists
by Coach David Ertl



Do you dislike high tech training tools, or just like to train 'unplugged' once in a while?

This article explains how to listen to your body and train intuitively.

Describes how to train endurance, aerobic and anaerobic capacity and strength without heart rate monitors, power meters or bike computers.

Contains 10 pages.
---

---